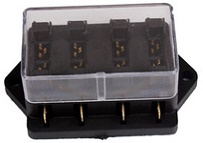 Product Series:202-04H 4 way fuse box
Product Name: 202-04H 4 way fuse box
Product Number:202-04H 
Product Description:
For general automotive or marine use, there compact fuse blocks have a small footprint
and do not take up much space.
.A water resistant cover with rubber seal is induded.
.For ATY-N(ATC,ATO) Blade fuses
.6.3mm Quick connect terminal
.Two 5.2mm diameter mounting holes for #10 screws.
.Transparent cover for dust & humid protection.
.Recommended for supplemental accessory power requirements.