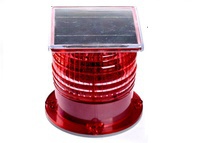 Product Series: Solar All-round Light
Product Name: JMD-305/100 All-round Light
Product Number:JMD-305/100
Product Description:
Features
◆Available in red, white
◆Polycarbonate lens is virtually indestructible
◆It takes only a few minutes to install.
◆Automatically turns on at dusk and off at dawn
◆Will charge under nearly all weather conditions and up to 100 hours of operating capacity from a full charge.
◆Completely self-contained and watertight.

Light Output

Sector

All-round

Effective Intensity

White

30.0cd

22.0cd

Red

26.0cd

18.0cd

Green

28.0cd

21.0cd

Visibility

3 NM

2 NM

Horizontal Output

112.5°,135°,225°

360°

LED

12Pcs

16Pcs

Operation

Minimum Autonomy

140h

100h

Latitude Range

55°S to 55°N

On/Off Level

60/100 Lux

Lifespan of LEDS

up to 100,000 Hours

Solar panels

Type

mono-crystalline

Maximum Power

2.7w

Efficiency

16%

Battery

Type

Ni-MH , replaceable

Capacity

5.0Ah

Construction

Lens Material

Polycarbonate

Colored Lens Option

red,white

Mounting Option

4 bolts or Magnetic base

Weight

1.2kg

Environment


Temperature Range

-40℃ to +80℃

Waterproof

IP67